Our dedicated staff is eager to help you achieve your health and wellness goals.
---
Heather Slusher
Heather Slusher is the Founder and Co-Owner of SunCoast Optimal Wellness in Apollo Beach Florida. She is a Board-Certified Family Nurse Practitioner with over thirty years of experience practicing in many diverse fields throughout the spectrum of medicine, including functional medicine, labor and delivery, oncology, vascular medicine, and as a provider for Marines and Sailors returning from combat service in Iraq and Afghanistan.
Mrs. Slusher was born and raised in idyllic Beaufort South Carolina, which is home to the Beaufort Water Festival, the best seafood in the Southeastern United States, and the Marine Corps' Paris Island Recruit Depot. Mrs. Slusher received her Bachelor's degree from the University of South Carolina, and her Master's degree from the Medical University of South Carolina in Charleston. Mrs. Slusher is a founding member of the Fluoroquinolone Antibiotic Awareness and Healing Alliance and the organization's Executive Director, as well as a graduate of the School of Applied Functional Medicine and a member of the school's Executive Council. Mrs. Slusher's patients are truly her passion, and she utilizes her many years of experience to ensure their health and wellness!
Mrs. Slusher is married to a retired career United States Marine and is the proud parent of four children, ranging in ages from 26 to 16.
---
Dr. Van Benschoten
Dr. Christopher L. Van Benschoten M.D has experience in Family Medicine, Pediatrics, Anti-aging, and Medical Cannabis. He graduated with a Doctorate at St. Matthew's University School of Medicine after graduating with a Bachelor of Science from the University of North Florida. He is a highly skilled physician with a passion for anti-aging. He completed his residency as a Family Practitioner and was an Ambassador Physician Hospitalist in New Smyrna Beach, Florida.
In June 2005 Dr. Van Benschoten presented his work on Cord Blood Banking of Hematopoietic Stem Cells From Umbilical Cord Blood: An alternative Approach For Treating Acute Lymphocytic Leukemia at the University of North Florida senior research seminar. In November 2011 he spoke about Radiological Aspects of Childhood Craniopharyngioma at the Florida Hospital radiological conference case presentation. In March 2012 Dr Van Benschoten spoke about Pediatric Brain Tumors at the Interfaith Medical Center Pediatric Presentation.
Dr. Van Benschoten has volunteered his time at Green Gables Assisted Living Facility, 5K Run for Autism, and 5K Run for Breast Cancer. He was also a Field Research Intern for the U.S Geological Survey in 2005. Dr. Christopher Van Benschoten's hobbies include traveling, surfing, outdoor activities, and photography.
---
Mark Slusher
Mark is the Practice Manager at SunCoast Optimal Wellness. In this capacity, he oversees all facets of the Practice's operations. Mark is dedicated to our Practice's ideals and is focused on supporting our amazing team as they provide world-class health care to our patients.
Mark is a retired U.S. Marine Corps officer and utilizes his leadership and management experience on a daily basis.
Mark is married to a gifted Family Nurse Practitioner who specialized in Functional Medicine. They are the proud parents of four children, ranging in age from 26 to 16.
---
Kelly
Kelly is the Staff Esthetician at SunCoast Optimal Wellness and has been a licensed Esthetician in the state of Florida for over fifteen years. She is also licensed in Tattoo and maintains certifications in Advanced Permanent Makeup, Laser, Phlebotomy, and as a Certified Nursing Assistant.
Kelly is very passionate about her clients and is committed to their satisfaction. She provides each client with a unique experience by customizing her procedures to best fit the individual needs of her clients.
Kelly loves living on the Suncoast, and when not taking care of her clients, she enjoys the beach, boating, swimming, and running.
---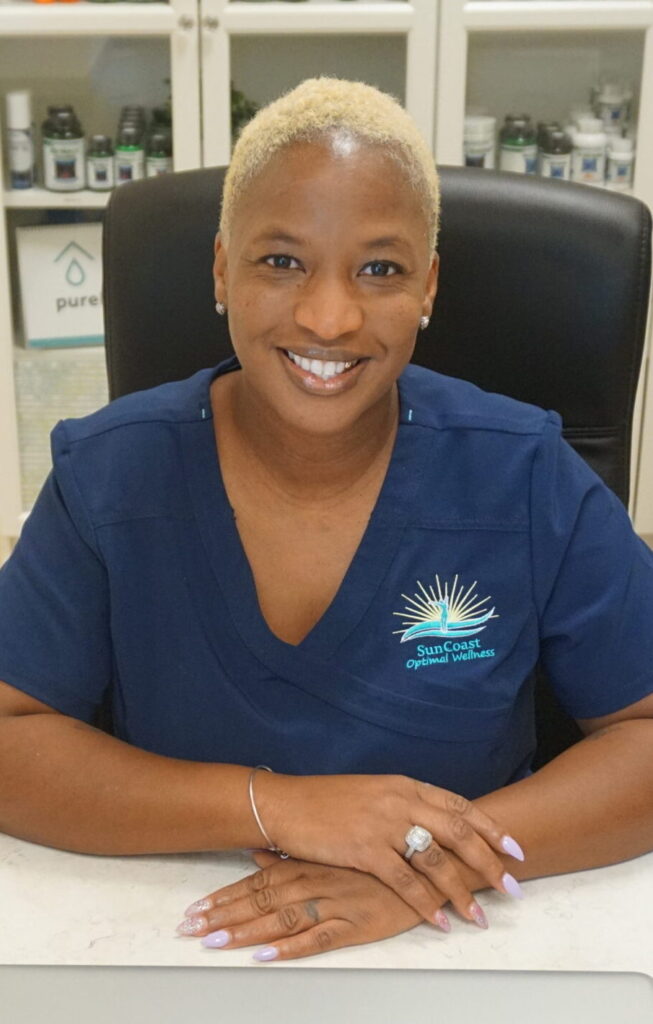 Dionne
Dionne is the Administrative Specialist at SunCoast Optimal Wellness. Dionne handles a multitude of administrative duties, to include our patient in-processing and check out. Dionne is also one of our Veterans on staff, having served with distinction in the U.S. Army for over twenty years.
---
Susie
Susie is the Staff Massage Therapist at SunCoast Optimal Wellness. Susie has been a licensed massage therapist in the state of Florida for over fifteen years, and is very passionate about the good health and wellbeing of her patients. Susie is trained to provide a variety of therapeutic and relaxing massage treatments, to include Swedish and Deep Tissue.
---
Gina
Gina is the Administrative Assistant at SunCoast Optimal Wellness and brings her experience in medical office managing and a background in insurance. She handles most of the paperwork and tracking of lab results for the office. Gina's hobbies include photography, gourmet cooking, and travel.
---
June
June Drennon is the owner of Florida Medical Thermography and has been certified as a Clinical Thermographer since 2008. She owned and operated a Wellness Center for fifteen years in Tennessee before moving to Florida in the year 2015. She also has certifications in Colon Hydrotherapy and Electro-Lymphatic Drainage Therapy but now only sees clients for thermography. Working in the holistic field of Thermal imaging is her true passion.
June has done thousands of thermography reports over the years and has often seen the value it offers in identifying risk factors and helping to prevent and monitor developing pathology. She believes that knowledge is power and that it is important to have the information to avoid creating an environment that supports the growth of disease. She enjoys helping people empower themselves so that they may be proactive and possess the health and well-being that they desire.
---
Melissa
Melissa is the Nurse at SunCoast Optimal Wellness and brings over 25 years of Nursing experience to our practice. She's very knowledgeable and friendly; a true "people person" who really cares about our patients!
---
Rachel
Rachel is the Social Media Specialist at SunCoast Optimal Wellness. Rachel works to create content on all our social media platforms and update our website to ensure that it carries the most up-to-date information.
Rachel currently holds a Bachelor of Science in Advertising and is working towards her Master of Business Administration degree.